If you want to see whales while visiting Hawaiʻi timing is far more important than location. Sure, some places are better than others, but to see whales there have to be whales, and that is why you want to visit during whale season.
In our overview of whale watching for the Hawaiian islands we discuss the following topics:
Whale season on Hawaiʻi
Humpback whale season on the Hawaiian islands is between November and Early May, but some months are better than others.
The first whales start arriving to the Big Island in late November, and more arrive as the season continues, until their numbers peak in the months of January, February, and March. The whales depart Hawaiʻi again late April / early May. The best months for whale watching are summarized in the following table:
| Month | Probability of seeing whales |
| --- | --- |
| January | High |
| February | High |
| March | High |
| April | Medium (early April) to Low (late April) |
| May | Very low |
| June – October | No humpback whales in Hawaii 🙁 |
| November | Low |
| December | Medium (whale watching tours typically start mid-December) |
Why do humpback whales migrate to Hawaiʻi?
Humpback whales are a migratory species which means that they migrate every year between the cool waters close to the poles and (sub)tropical waters. Our whales (those belonging to the North pacific whale population) swim an average of 6,000 miles a year, but migrations of up to 16,000 miles a year have been documented! This makes Humpback Whales one of the best-traveled mammals in the world.
So why do the whales come to Hawaiʻi, you ask? Interestingly enough for the same reason as many of our other visitors: to take a break!
Humpback Whales spend their summers feeding and building up fat reserves in the cool higher latitude waters and then spend cold winters in our warmer tropical waters to mate, give birth, and to raise their calves (children) in a safe environment and far from natural predators.
Because there is relatively little food in (sub) tropical oceans there are also relatively free of large predators. This makes the Hawaiian waters somewhat of a "safe zone" where the whales can make sure their young (calves) get a good start in life.
Best whale watching spots (on land) per island
Seeing whales is easiest from a boat, but chances are you see whales when taking a break on one of our wonderful beaches during whale season, or even when driving along the coast!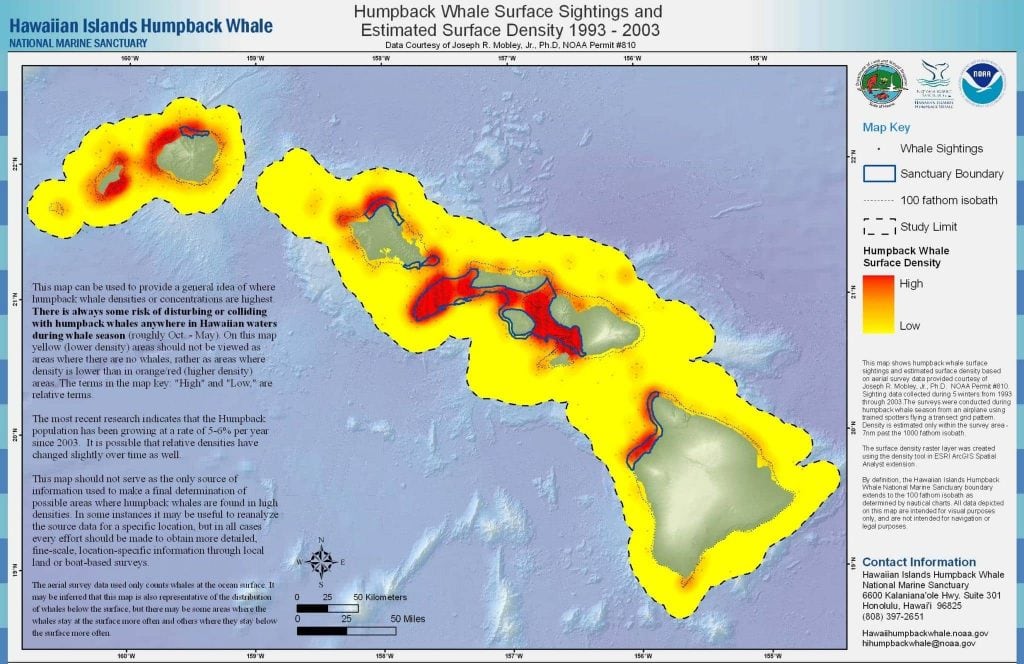 There are 3 important factors to consider when picking a spot to try and see whales from the shore:
The presence of whales: Like humans, whales have their own favorite hangout spots. These spots can change but the map shown above can give you a good impression of where you are most likely to encounter humpback whales.
Ocean conditions: Whales are most easily seen when they make a splash so it is important that ocean conditions are calm. Early mornings often come with calmer waters and less choppy ocean conditions, and and days with low (or no) wind and swell are preferable.
Overview: If you see twice as much of the ocean you are ~twice as likely to see a whale, so pick an elevated spot with a good overview of the surroundings.
In the summary below we list a few good whale watching spots per island:
Big Island
The best place to see whales from the shore on Hawaiʻi island is along the Kohala coast.
Puʻukohola Heiau National Historic Site
Lapakahi State Historical Park
Kapaʻa Beach Park
You can read more about each location in the following guide to whale watching on the Big Island.
Maui
Every place along the southerns and western coast of Maui is basically good place to try and see some whales. However, the following places deserve special mention:
McGregor Point lookout (west of Maʻalaea)
Read more about whale watching on Maui.
Oʻahu
Good places to see humpback whales from the shore on O'ahu are:
You can read more about each location in the following guide to whale watching on Oʻahu.
Kauaʻi
Good places to look for humpback whales from the Kauaʻi shore are:
From Poipu Beach
From scenic spots like the Kilauea Lighthouse or the Kalalau Trail on the Napali coast.
From the Kapaʻa Overlook between Kapaʻa Town and Kealia Beach
Read more about whale watching on Kauaʻi.
Best whale watching tours per island
One of the easiest and most spectacular ways to see the whales is to join a boat tour. Tours are a fascinating experience and allow you to see the humpbacks from very close-by. They typically last half a day and cost about $100 per person.
There are many companies that offer whale watching tours – the most important difference between these tours is the size and type of boat.
Larger boats have more amenities such as toilets and a bar on board, and also better equipment such as hydrophones (to listen to the whales) and a whale cam.
Smaller boats usually mean a bumpier ride, an increased chance of getting wet, and a more windy experience. However, the advantage is that you are closer to the water level and therefore at the same level as the whales, which many people prefer.
Big Island
A household name on the Kona coast that we trust to provide consistently high-quality whale watching tours with a bar on board and great professional guides on board is Body Glove.
Maui
The supply of Maui whale watching tours is almost endless and that is a good thing because it gives you many choices – from big boats like the Pacific Whale Foundation to small-group experiences on pontoon boats, such as the adventure offered by Captain Steve's Rafting.
Oʻahu
There are many options when it comes to tours organized on Oʻahu. Here are some examples:
Very large single hull and multi-level 'mega boats'. These boats can accommodate hundreds of visitors making them the most affordable option. Example: Star of Honolulu.
Moderately sized Catamarans that can quickly sail by Oahu's shoreline looking for whales. Example: Hawai'i Nautical.
Smaller boats for groups between 6-10 people. For example: Nani Kai Ocean Adventures operating from the North Shore or Pink Sails Waikīkī.
Kauaʻi
The Napali coast sunset cruise by Holo Holo charters is a good choice to see humpback whales *and* the incredible scenic Napali coast during whale season.